It's well known that L'ÉTOILE COSMÉTIQUES uses the regenerative properties of starfish to develop its line of anti-aging products.
But where do the exceptional regenerative abilities of starfish come from?
As the name suggests, our L'ÉTOILE COSMÉTIQUES anti-aging products were developed to harness the fabulous regenerative power of starfish found in all of our products through the inclusion of our patented Juventide® bioactive technology.
The source of this exceptional regenerative potential is found in the cœlomic fluid of the starfish Asterias vulgaris, found abundantly in the cold, pristine waters of the Gulf of St. Lawrence. Cœlomic fluid is the liquid that fills the internal cavity of the starfish. It is produced by the cells of the body wall of the starfish and plays an important role in the starfish's nutrition, respiration, healing and regeneration.
In addition to its regenerative properties, cœlomic fluid contains molecules with anti-inflammatory and antimicrobial properties. Scientific studies are currently evaluating the effectiveness of these molecules as a novel treatment for infections in chronic wounds and skin diseases. Some studies also show that the medicinal properties of sea stars could pave the way to a more effective fight against multi-resistant bacteria, to stimulate wound healing, to reduce pain or to treat cystic fibrosis.
Starfish have impressive properties. For over a decade, innoVactiv scientists have been researching the application of the exceptional regenerative properties of starfish to human skin. The discoveries we have made show that cœlomic fluid is not only safe for daily use, but that it also slows down the signs of aging while regenerating the skin like no other cosmetic active.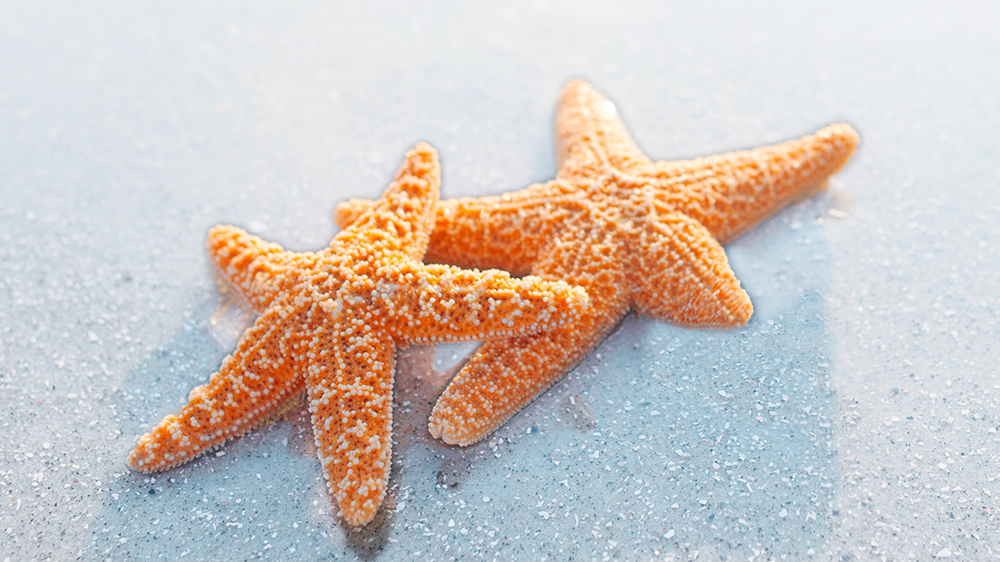 Harvested in an environmentally friendly way
Surprisingly, starfish also use their cœlomic fluid to move by inflating and throwing this fluid in a coordinated fashion through their ambulacral siphons. It is also this feature that allows us to harvest their cœlomic fluid without harming them in any way.
The patented cosmetic ingredient Juventide®, formed from cœlomic fluid, induces a significant reduction in wrinkles, regeneration of the epidermis, better healing, as well as an increase in the firmness, elasticity and hydration of the skin, without showing any signs of toxicity for all human skin types. It has even been shown that Juventide® is more effective than retinol in reducing the visible signs of aging without irritating or drying the skin.
It is this major technological advance that we have integrated into the heart of each L'ÉTOILE COSMÉTIQUES anti-aging product. By using these products, you will strongly stimulate the regeneration of keratinocytes resulting in a significant increase in the thickness of the epidermis in order to strengthen the skin barrier. Our products are also effective in increasing the synthesis of glycosaminoglycans (GAGs) responsible for skin hydration, including hyaluronic acid. They strongly stimulate the synthesis of type III and IV collagen, providing greater firmness and elasticity to the skin and restoring its youthful glow.
In short, all these benefits combined result in a significant and visible reduction of wrinkles and other signs of aging.
L'ÉTOILE COSMÉTIQUES products are entirely developed and manufactured in Quebec. They do not contain parabens, are not tested on animals and are recommended for all skin types.